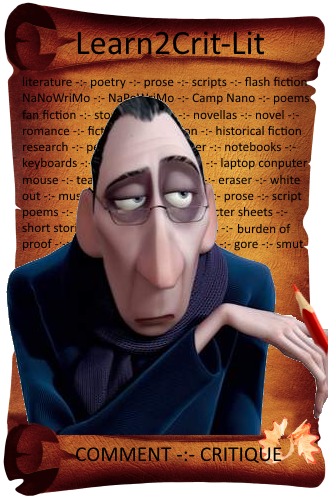 So, you may or may not have noticed a 'change' in founder - this isn't really a change at all! I am still the same person (
MagicalJoey
) this is just an alternate account. I moved the group to this account's control because I needed to open up a gap for another group I joined as admin on my main account (I can only be an admin in 10 groups as a core member, three as a 'normal' member). So, that said, nothing has changed drastically at all.
We welcomed a new admin,
Cobrateen
, who is here to help with prose critique training. He is an active critic at
GrammarNaziCritiques
(my critique group) and I brought him over from there to help you all out. I encourage you to note
me first
and not him directly if you want to train in prose - I will get you into his very capable hands quite quickly and then you can make friends and do what prose trainers do.
This group is sadly silent, but I don't know if that means inactive. I am hoping that when I post these challenge pieces you look at them and maybe try them out. I also hope that if you get stuck or have a question that you will ask me (
MagicalJoey
/
MagicalJosie
)
Don't be afraid to participate. Try things you haven't. Give it a go. You never know what talents might emerge.
We only have two other admins. If you would like to be an admin and help teach people note
MagicalJoey
and we can see where things stand. This is just a case of passing along any skills or strengths you may have in critiquing pieces. So whether you are only 'good' at one thing or have many skills consider joining the team to teach whomever wishes to learn.
Encourage your friends to join. Encourage people who critique your work to join.
ONLY ONE RULE

This is a LITERATURE critique group.

Your Current Challenge Pieces:
Please do make an effort to bring people in. This group could really help people if you, and they, give it a chance.
Group Promotion:
GrammarNaziCritiques
is looking for several things and
you
can help out!
1) Poetry Critics:
Think you're up to the task of critiquing minimum two pieces per month?
Think you're up to the task of joining a dedicated, but small, team?
Want to help out your fellow deviants with poetry critiques?
Prose critics are welcome too, though they are not needed at this stage
Send a note to MagicalJoey with GNC Critc (or something else appropriate) as the title.


Training can be provided, if you wish.
You will be asked to link some critiques you have already done, or to critique a piece of work to show your skill.
It's only two critiques a month minimum (more are welcome) and there is a simple system that will be explained to you.
2) Prose Works to Critique
Are you a writer of prose in the form of short stories or chapters?
Want someone to critique your work?
Place some questions for the critic in your artist's comments and submit to GrammarNaziCritiques and a critic will get to it asap.
And that's all folks.
Ciao,

J