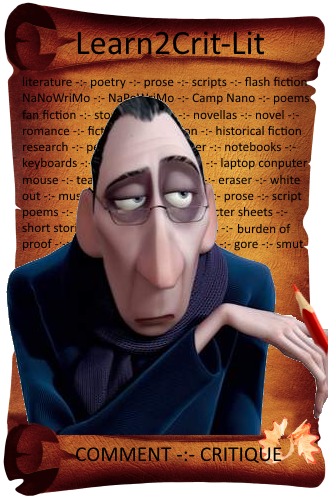 This group is sadly silent, but I don't know if that means inactive. I am hoping that when I post these challenge pieces you look at them and maybe try them out. I also hope that if you get stuck or have a question that you will ask me (
MagicalJoey
)
Don't be afraid to participate. Try things you haven't. Give it a go. You never know what talents might emerge.
We only have two admins. If you would like to be an admin and help teach people note
MagicalJoey
and we can see where things stand. This is just a case of passing along any skills or strengths you may have in critiquing pieces. So whether you are only 'good' at one thing or have many skills consider joining the team to teach whomever wishes to learn.
Encourage your friends to join. Encourage people who critique your work to join.
ONLY ONE RULE

This is a LITERATURE critique group.

Your Current Challenge Pieces:
Please do make an effort to bring people in. This group could really help people if you, and they, give it a chance.

J